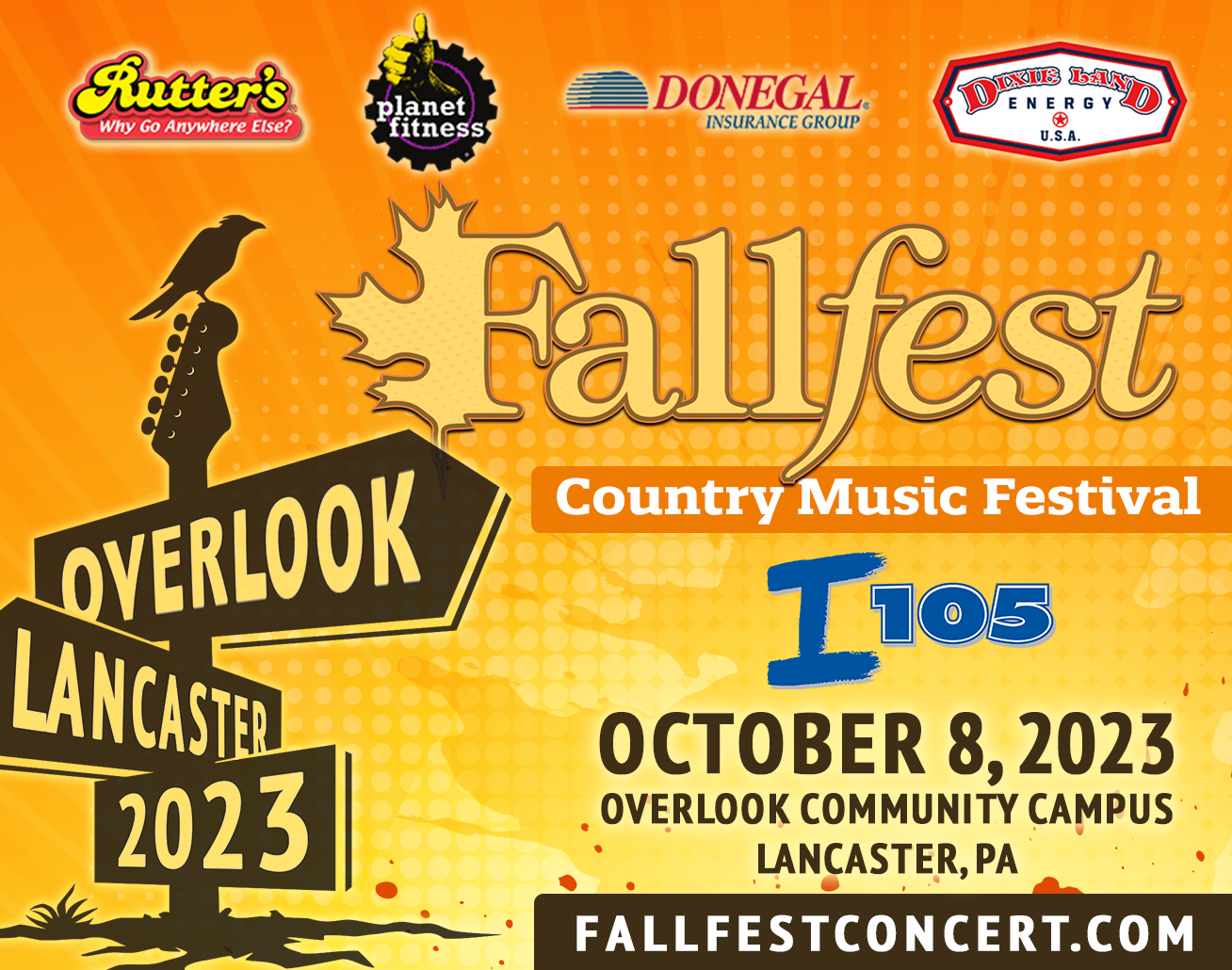 I-105 FALLFEST RETURNS TO LANCASTER, PA
Mark your calendars. The 31st Annual I-105 FallFest Country Music Festival, sponsored by Rutter's, Planet Fitness, Donegal Insurance Group, and Dixie Land Energy – Sunday, October 8, 2023 – BACK at Overlook Community Campus in Manheim Township, Lancaster County.
Performers and ticket information will be announced on July 6, 2023. Stay tuned for updates.
---
PUT YOUR BUSINESS CENTER-STAGE WITH A SPONSORSHIP OF FALLFEST
FallFest is a great place to demo your product, lead generate, recruit employees and engage with 10,000+ country music fans. Now is the time to lock in your sponsorship of Fallfest in 2023.
We are also accepting food trucks and certain alcohol opportunities to serve on-site.
Email [email protected] for more information.
If you have a non-profit boy scout/church/community organization that is interested in volunteering at Fallfest, contact [email protected] to explore opportunities available.
Fallfest News:
Join us for a great night of Country Music on Friday, June 23rd from 6pm-9pm at New Holland Community Memorial Park Save the date. Bring the Family and join us for an evening of great country music and cheer on your favorite band! The show is rain or shine. Admission and Parking are FREE! Bands…… MORE
Since the very first "Fall Music Fest" on October 4th, 1992, we have been blessed to have some incredible performers grace the stage at FallFest! Long's Park hosted FallFest from 1992-2007. Fallfest moved to Overlook Community Campus in Manheim Township from 2008-2018 and then to Maple Grove Raceway from 2019-2022. The video is memories from…… MORE